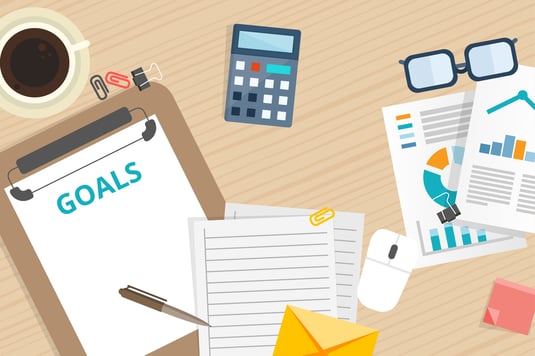 One of the many things I enjoy about being a financial advisor is how every client and interaction is different. Each issue must be uniquely reviewed and analyzed. While the overall financial planning process may differ for each individual, our team at Exchange Capital Management strives to understand our individual client's goals. While the question, "what are your goals" seems simple, it is vital to consider the specific steps that must be implemented.
Define
Saving for retirement is a common answer when we review a client's investment goals. While this straightforward goal is a great driver of a client's financial plan, it is important to consider what it truly means.
Is your definition of retirement the same as your spouses? Your parents? Your neighbors? Have you considered lifestyle changes or what you would do with hours of added free time? How about where other life goals fit in with retirement? We've touched on some of these questions before, in our blog, Why You'll Probably Die With Money.
While retirement is typically the first on the list, it is seldom the only goal. Possible healthcare and educational costs as well as charitable giving are just a few examples of financial objectives that also deserve in depth planning. Each example listed above has a distinct savings vehicle which can provide significant benefits. The government rarely provides clear guidance on how to avoid paying income taxes, so when strategies exist, it is important to take advantage of them.
Interested in learning more? Check out our blogs about Health Savings Accounts (HSAs).
Plan
Funding options such as leveraging debt, using existing assets, or accumulating additional savings each have their own pros and cons, not only financially, but also psychologically. Review the potential impacts on cash flow and current savings to ensure you are not overextending and sacrificing in other areas you may not want to. Find a balance between debt payments and savings while maintaining a positive cash flow. The golden rule for financial success is simple. Spend less than you make.
Once the best method for saving has been determined, give thought to your timeline. How far off is the day when saved funds will be utilized? What frequency and amount will guarantee you to reach your target? Having a specific timeline can help maintain momentum and focus throughout the accumulation stage. Not only that, but it can also simplify the management of multiple short- and long-term goals.
If you feel savings are getting off track and expense cuts must be made, take a deeper look at spending. Be sure to carefully review recurring charges such as subscription services, TV/phone/internet, and memberships. If you are not utilizing a service, strong consideration should be made to cutting it.
A clear timeline helps determine one aspect of a goal that typically does not receive due consideration. Asset allocation matters. Markets can be volatile and at times seem unforgiving. Being too aggressive in a short-term investment may lead to a loss in wealth if markets are not favorable. Inversely, conservative investing for a long-time horizon could potentially produce a shortfall or even extend the date of your goal. Finding the right allocation balance while adjusting when appropriate further assures a rewarding outcome.
Implement & Maintain
Saving for major financial events can seem daunting. In order to stay focused and confident, take each step one at a time. Define your goals, plan how you are going to achieve them, implement your plan, and execute when the time comes. Be sure to check in every now and then to verify you are still on the right track.
Of course, situations and goals change. One of our duties as financial advisors is to help you determine, maintain, and eventually reach your goals. We can help you design that path and make sure you stay committed. Schedule a meeting with one of our advisors to help you get started.
Joe Crowley is a Financial Planning Specialist at Exchange Capital Management. The opinions expressed in this article are his own.